We supply comfortable, quality apparel to the world
Since its establishment in 1973, the textile business of The Willbes & Co., Ltd. has been steadily developing until today.

We have exported apparel to large buyers such as Target/Gap/Wal-Mart/Hanesbrands/Carter's/The Children's Place/Disney, and have consistently recorded annual sales of over 200 million dollars, establishing ourselves as a major global apparel exporter.

We are doing OEM-ODM exports, and we have major production bases in Latin America and Southeast Asia such as Dominican Republic, Haiti, Indonesia, China, and Cambodia.
While strengthening the global competitiveness of the existing textile business, we plan to expand our business area to products that are more environmentally friendly and can create high added value, including feminine hygiene products using eco-friendly fibers.

Compliance
We promise to provide you with the best quality apparel
Self-audit Process
We are conducting self-audit every quater, and verifying corrections through self-audit proceed as well
Internal Compliance Program
Term of Self-Audit
Quaterly audit conducted
Audit Process
- Document Review for payroll, attendance record, personal document etc
- Workers Interview with randomly picked employees
- Factory Tour
Rating System
Green
Factory has no violations or limited numbers of low-level violations.
Yellow
Factory has more than five (5) low-level violations.
Red
Factory has
(i) high-level violations such as incorrect payment of wages, involuntary or excessive overtime, no day-off in seven days; or
(ii) more than ten (10) low-level violations.
Non-Compliant
Factory has core violations such as employment of child workers, imprison of workers, pregnancy test, of physical abuse.
Factory Selection Process
For incorporating a factory into our matrix, We conducted registration proceed as below.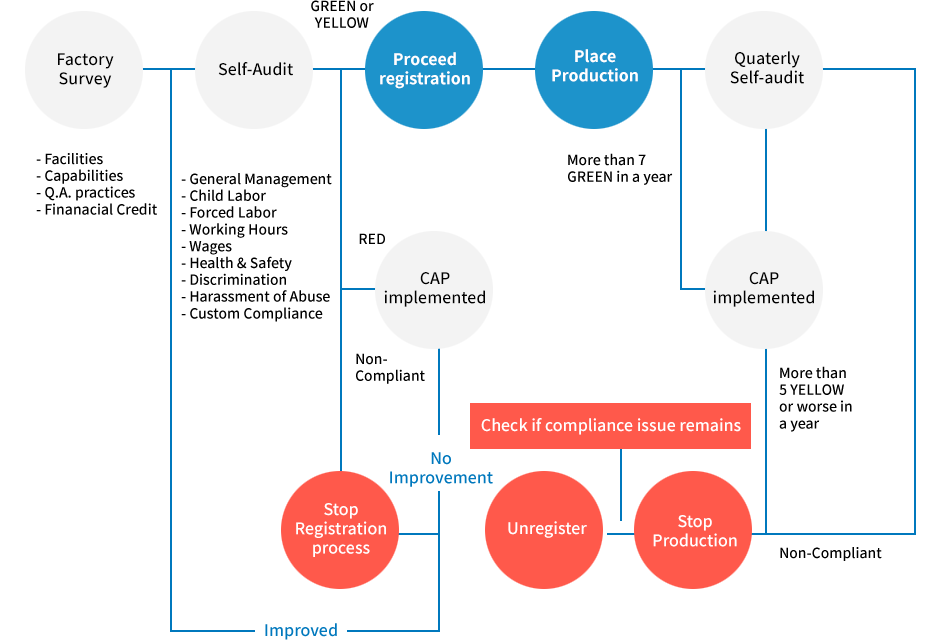 QA system
We promise to provide you with the best quality apparel

Our sophisticated Quality Assurance system enables us to produce quality apparel satisfying buyer's demand
We are aiming to buyer's satisfaction by complying QA system requirements at respective production flow